Miles and Mania
Happy Monday everyone.  Welcome back from the weekend. This past week I came up on the Thirty Days out benchmark for the Bend Marathon, which will be my first race of the season, on April 26.  It seems as though every time I hit that 30 day, or one month, out marker the nerves start to seep in and I begin to question whether or not I am on track.
It was a busy week this past week as Brandon was out-of-town on business.  It always seems as though when he is out-of-town the week is a whole lot busier, not that my schedule really changes much.
Miles
This weeks mileage:
| | | | | | | |
| --- | --- | --- | --- | --- | --- | --- |
| Monday | Tuesday | Wednesday | Thursday | Friday | Saturday | Sunday |
| Running Rest day | 9 miles | 4.9 miles | Running rest Day   | 9.1 miles | 8.7 miles | 10.1 miles |
Last weeks mileage took a little bit of a hit due to some really sore shins and feet.  I am hoping that with the lower mileage done last week I will be able to bump up for one more week of 50+ miles before the mileage decrease going into race day.
I have been feeling a little bit frazzled lately with prepping for this race so it was very exciting, and decompressing, when my new Garmin came in the mail, who doesn't love new running toys!!!  I had broken my other one, apparently dropping them on the tile floor of your house more than once can cause some damage, and had been running with just my Strava app for many months now.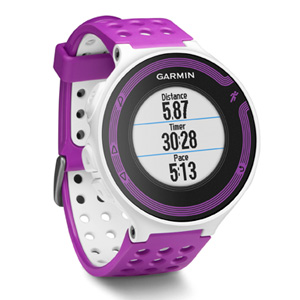 I absolutely love it.  It is extremely light weight, barely know that it is on your wrist, and of course the colors are beautiful :).  I am glad that I was able to order it in time for the Bend Marathon as I did not want to go into the race having to rely on my phone for split times (hence the decompression when my Garmin arrived).
While I would love to say that all my miles are easy and I am always motivated to get out there, that would be unrealistic.  In reality I spent much of this week dreading the miles I needed to put in and ended up forcing myself to get out there each time.  It wasn't until Sunday actually, in which I spent the first couple miles into the run complaining in my head the whole time, that I realized how negative I was being and that I needed a serious attitude adjustment.
It took a minute to push back though negative thoughts and remind myself that I did not have room for negativity as I was outside, the sun was shining, and I had the beautiful ability to push myself so what more could I ask for.  Sometimes you really do have to kick yourself in the ass to get moving.
Mania
Per usual Brandon and I managed to maintain a very busy schedule this past week, sometimes I wonder what the point of our couch is as we don't relax on it very often.  As mentioned he was out-of-town Monday through Wednesday arriving home Wednesday night in just enough time for us to shoot off to the gym and for our nightly gym routine.
The weekend went by way to quickly, packed with spin class, running, spring cleaning, and most importantly March madness.  With my alma mater, Gonzaga University, vying for an elite 8 and a final 4 position we spent a lot of tense moments watching basketball.  Sadly our Zags lost yesterday to Duke, however, they put up on hell of a fight and I know that all of Spokane couldn't be more proud of them.
So what's up for the coming week:
Lots of running.  I have  a 50+ week this week with the goal to throw in a track workout again.  The usual strength training and possibly some swimming in there, I was realizing that my triathlon is going to come up quickly and I need to get some swimming in.
Hopefully, next weeks article will be a little more exciting that this weeks.  Getting down to crunch time and I will say that the race is pretty much all that occupies my mind.
What keeps you busy throughout the week?